The Vagaries of Home Fashion and Good Sense.
I cannot tell a lie. I am a catalog lover. If Pottery Barn is really just Porn for the materialist, than my inner spoiled brat is a total perv. Yesterday brought their latest missive, sporting about twelve new bedding patterns and thus awakening all sorts of wanton covetousness....but it also gave me pause.
What, in the name of all that is holy, is going on HERE?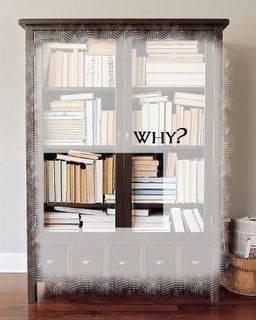 I just don't get it.

I mean, I may be a catalog lover, but I am also a book lover. And for the life of me I can not fathom why anyone would shelve their books in the least convenient position possible.
Unless, of course, Pottery Barn is aiming their wares at the customer whose tastes extends beyond just catalogs to the real hardcore stuff that cannot show it's titles in polite society.
Yep. Those HAVE to be Auction catalogs. It's the only possible explanation.